OPENING SUNDAY, JANUARY 3, 2010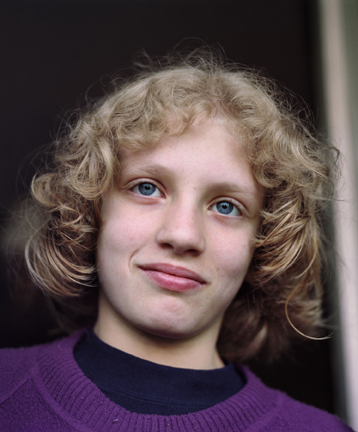 Anna Shteynshleyger, "Masha" 2004 - 2009
pigment print, 24 x 29.9 inches, courtesy of the artist.
Please join The Renaissance Society for an opening reception for Anna Shteynshleyger, Sunday January 3, 2010, from 4:00 to 7:00pm. There will be a talk with the artist in Kent Hall room 120, from 5:00 to 6:00pm.
Chicago-based artist Shteynshleyger belongs to a generation of photographers whose work is notable for its formal beauty and technical execution. Twenty-three works poignantly document Shteynshleyger's life over the past several years. During this period Shteynshleyger renegotiated her relationship to Orthodox Judaism, which she began to practice at the age of 16 after moving to the United States from Moscow where she was born. Too personal to qualify as documentary of the Orthodox Jewish community, Shteynshleyger's work spans a variety of genres -- portraits, still-life, landscape, and interiors. The images display a sensitivity of their subjects that is as questioning as it is knowing.
The Renaissance Society
at the University of Chicago
Cobb Hall, 4th floor
5811 South Ellis Avenue
Chicago IL 60637

hours:
Tuesday to Friday 10:00am to 5:00pm
Saturday and Sunday noon to 5:00pm
closed Mondays
ALL EXHIBITIONS AND EVENTS ARE FREE